Throughout life we always dress with an occasion in mind; for formal events such as weddings and parties we look for the best dress and a pair of heels while for going to the gym we wear sportswear and trainers, at some stage in our lives for going to school perhaps a uniform was the only option.
And what about when we travel? Most of us look for something comfortable to wear, as long flights and the hustle and bustle of the airport require it, but how to wear something comfortable without losing style?
For too long we have been led to believe that the two concepts don't mix, that it is impossible to dress well and feel comfortable at the same time, especially on occasions when comfort is a necessity rather than just a whim.
But travelling is an experience that should be enjoyed from the very first moment and there is no doubt that looking good is a reflection of feeling good.That's why we want to share with you these four ideas of comfortable outfits for travelling and with which you will also have the certainty that no matter how tiring the flight is, or how conflictive the arrival at the airport is, you will never lose your style.
1- Business Trip
The first look is extremely versatile as it not only serves to travel in absolute comfort and style, but is also ideal for any female traveller whose plans are immediate upon arrival at her destination; a meeting, perhaps a lunch to close an important business deal, or something completely outside of work, going to dinner at a trendy restaurant to enjoy the first night there.
The central element of the outfit will be the linen Havaianas shorts, whose material allows air to pass through and a lot of freedom of movement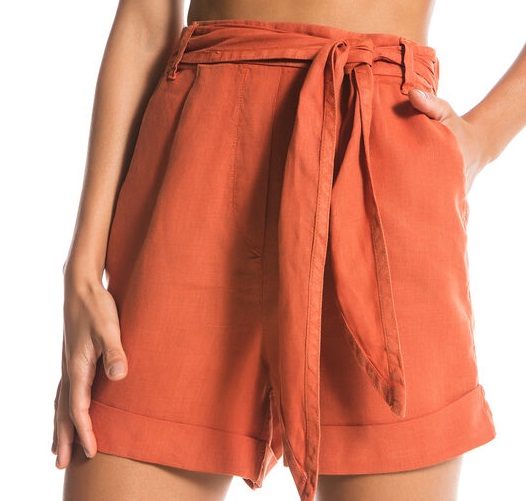 To keep the look elevated it is important to add a thin white shirt, which can be tucked into the shorts as a french tuck, i.e. tucked in only from the front to give the illusion of a more pronounced waist.
It is important not to forget that when less is more the details are of great importance, so the ideal shoe for this look are the Espadrilles Mule Eco, which besides being excellent for a quick run through the terminal provide an extra touch with the stitching that crosses its tip.
For a more polished outfit, accessories such as Havaianas Geriba Shaded Gri sunglasses, pretty, understated earrings and an updo that lets the outfit speak for itself are always recommended.
2- But first… coffee
Travelling in the early hours of the morning can seem like an ordeal. There are times when the last thing you want to think about is what to wear, whether you look good or whether your clothes even match.
This look eliminates all those problems, what's more, it will give you the closest possible feeling you get to wearing pyjamas and all while looking bold and modern. Sounds good, doesn't it?
There's nothing more stylish than a well-made monochrome outfit. For some people wearing head-to-toe black might seem boring, bland or uninspiring, but again it's all about the details. The difference in textures, tones and light touches of colour are what really make this an interesting look.
Starting with the Eco Rainbow sweatshirt and trousers, which have some colourful stripes on the right side that give a little more life to the base.
Adding to the comfort of the pants are the Havaianas Fur Mule, in black too, like walking on a truly unique looking cloud. But something has to add a modern and slightly more composed twist to the ensemble and that's where the classic black leather jacket comes in, a staple of any wardrobe.
And to top it all off, a couple of accessories; a Havaianas cap so you don't have to worry about your hair either and a pair of Maragogi sunglasses, ideal for hiding the dark circles under your eyes due to lack of sleep on the flight and at such an early hour… lack of coffee.
3- Comfy & Cute
Two in one! In this small section it's all about colours, a couple of lighter, fun and youthful outfits for travelling comfortably and living the feel-good experience from the clothes.
Havaianas Arcoiris trousers in blue are the best substitute for jeans. It completely eliminates the discomfort of tight denim during a flight or sitting in a waiting room and replaces it with a soft and beautifully tailored cotton fabric in a trouser with pleats and pockets that serve more than just as decoration.
 For both looks this is the base and for the first one the oversized look is maintained with the purple Rainbow Echo sweatshirt, preferably one or two sizes bigger than you would normally wear.
To play a bit with the colour of the trousers, plus some fringe, we think the Havaianas Alpargata Fur Light are the ideal footwear for this look.
As for the second outfit, the trousers are teamed with a pair of beautiful Havaianas You Malta Mix, with an orange base and vibrant shades of pink, green and yellow. 
These two pieces are paired with a mostly white t-shirt, with the exception of the solar legend that reads across the chest, and go perfectly with a long cardigan of your choice, which serves to keep the loungewear aesthetic so well established.
4- Statement Shoe
Last but not least is this airport outfit that revolves around one specific piece: shoes.
Putting together a look that focuses on one piece is easier than it looks, and the result is an effortlessly chic look.
But these shoes can't be too simple or too easy to forget, they must have something that makes them eye-catching and special like the Havaianas Print Mule Loafer Havaianas, which have a leopard print that is extremely eye-catching.
To go with the loafers, a pair of black trousers with a more boxy cut, a white t-shirt and a black cardigan to tie over the shoulders will create the perfect balance between a preppy look and an off-duty model look.