As well as being a safe option for a good time, the beach is an extremely versatile place; it's the venue for a quiet picnic with friends, the start of a wonderful love story, where a bonfire night will be the most talked about occasion of the next few months or the ideal place to relax with a book on your own, just the sand, the sun and you.
Whatever the occasion, it's still important to dress comfortably and stylishly, from head to toe….
Your footwear should be as versatile as the place it's taking you, and Havaianas offers you a variety of options within which you're sure to find the best shoes for the beach no matter what your plans are there.
Flip flops
What better than to go for the classics first, the trusted companion for any visit to the beach: flip flops.
But just because this is a basic type of footwear doesn't mean it should be limited to the boring or simple, there are many ways to spice up your outfit with a pair of flip flops, that's why we share with you these amazing models that will allow you to play a little with your creativity and look chic no matter what.
One of the best parts of any trip to the beach, whether it's with friends or family, is that moment near the end of the day, after a lot of hours spent in the sun, when everyone is getting ready to go out for dinner.
And it's at a time like that you want to opt for a type of beach shoe that looks great and lets you relax.
The Havaianas Slim Flatform Glitter is an excellent option, since they come in four different colours, three of them neutral tones, which will allow you to match them with the outfit of your choice.
Their slight flat platform will also give you some height, without losing the comfort of flip-flops, and the glitter will give you just that extra touch that you are looking for with accessories.
Then there's the Havaianas Slim Gradient Sunset with one of four colour gradients to choose from, which are perfect for matching or contrasting with your favourite swimming costume or even adding a splash of colour and life to a more neutral daytime outfit.
Slides
This type of shoe can be worn in a much more casual context.
Slides are ideal to go in search of an adventure! Discover the surroundings of the destination you are visiting, with a cute pair of shorts, a refreshing short sleeve shirt and a nice bucket hat, what better than a pair of Havaianas.
The slides can be in one of the Brazil or Classic varieties that come in multiple fun colours to add a pop to your outfit or match any of the clothes in it.
Sandals
The sandals have three specific purposes, to look pretty, to take you where you want to go and to make you feel pretty while doing it.
The variety of options that Havaianas has explores different ways, to cross and play with straps, over the instep details, bows and patterns, as well as a variety of materials that further enrich your look. 
So yes, if you're looking for the kind of shoe to elevate your look or make it the centrepiece of it, we've got options for you.
First of all, there are the Havaianas You Malta Mix, beautiful sandals, very similar to the slides style, with a combination of vibrant colours in the strap that goes through them.
There are three types of alternatives of this type, among which you will surely find the ideal one for your style.
Since we mentioned the details and patterns, it was completely necessary to add to the list a pair of Havaianas You Saint Tropez, a nice and elegant option for a brunch on the sand, a little lunch outing or simply a pair of beach shoes that will make you feel like you're on a luxury holiday.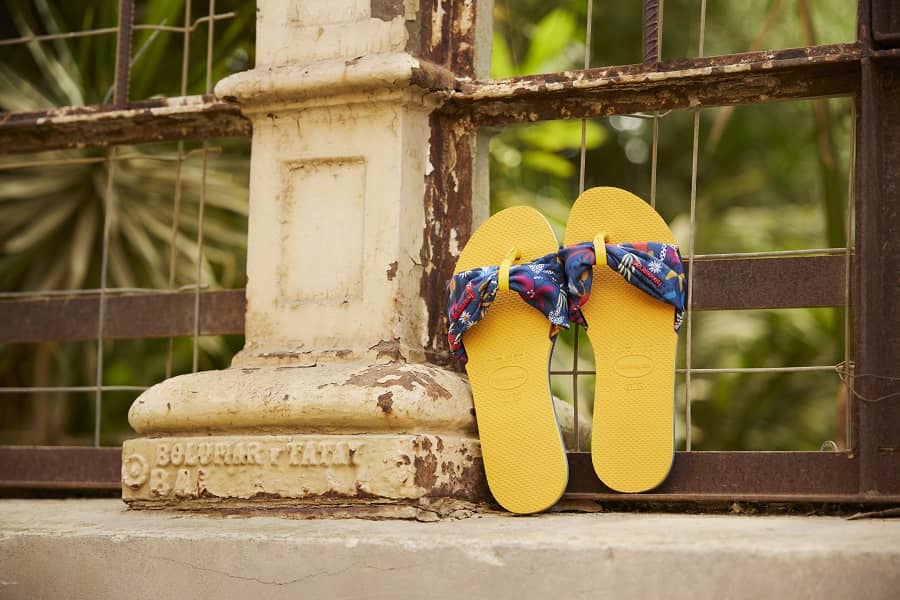 Finally in the sandals section we wanted to incorporate footwear where the fun ribbon arrangement takes centre stage.
We bring you the Havaianas Luna, with beautiful ribbons that wrap around the back and form a loop at the front, their bright copper colour makes them the perfect choice for a party or a fun day out. 
Espadrilles
Por último, pero sin lugar a duda no menos importante están las alpargatas Last but certainly not least are espadrilles that allow you to have fun with your outfit, explore the boundaries between casual and formal, as well as stay comfortable and stylish no matter how long it has taken you to visit the beach.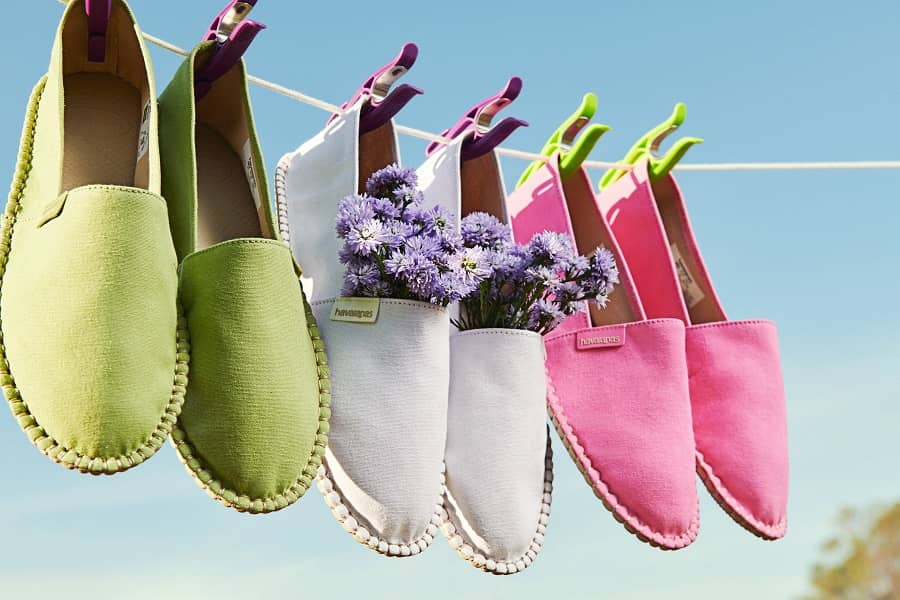 Imagine you're at a wedding, you've been busting out your best moves on the dance floor for hours and standing to give a warm welcome to the bride and groom and toast to the start of a wonderful new era.
If you're one of those women whose idea of bridal charm is directly allied to heels, then the odds are that by this point in the evening you're about to lose your glamour.
Feet ache and beg for the kind of shoe that will bring you the comfort you crave, and if you're a little lucky they might not cramp your style.
That's where the Havaianas Mule Loafter Flatform comes in, which in addition to allowing you to keep some of the centimetres that heels give you, they're ideal for slipping your feet into after wearing uncomfortable shoes all day long.
Another type of use that you can give to this type of shoe, in a more everyday way, is as an alternative to a pair of trainers.
The best thing is that you can choose from a wide variety of models, according to whether you are looking for something more flirty like a pair of Havaianas Alpargatas Fur, with cute fringes and denim-like appearance.
If you want something fun then you might go for something like the Havaianas Alpargatas Mule Loafter patterns, or if basics are your thing then a classic pair of Havaianas Espadrille Eco II in white will be great for keeping the outfit effortlessly chic.
Now that you know what's the best footwear to wear to the beach, all that's left to do is choose the beach destination for your next holiday.
Choose from the best urban beaches in Europe, the Mediterranean, or the top-rated beaches of the Canary Islands.